call free
Do you want to get rid of the pest infestation in your home? Contact us directly by calling 0800
/> 10 10 15 to speak to one of our experts.
Contact

A+A Désinfection has been helping Swiss-French companies and individuals to eliminate and control the spread of pests since 1998. Officially recognised by the Swiss Federal Office for Public Health and certified under CEPA*, Bio Suisse and a member of the Swiss Pest Control Association, A+A Désinfection guarantees near-perfect diagnosis precision and treatment, provided that our recommendations are followed.
---
A+A Désinfection offers a 360° service, covering all cases of parasite and pest infestation:
Disinfection: microbial
Disinsection: cockroaches, mites, worms, acarids, bed bugs
Elimination: of wasp and hornet nests
Rodent control: mice, rats, moles, stone martens etc.
Pigeon elimination: anti-pigeon and bird protection
Biological treatments of pipes and grease tanksDésinfection : microbienne
We take action in the workplace, at home, in communities; we also make a point of respecting the environment in which we are active to avoid disturbance or inconvenience. Our solutions respect the health of our customers and the environment; this means that treatments are harmless for people and pets.
A method sensitive to your situation
Each case is an emergency in the eyes of those who experience the unpleasantness of a parasite infestation; that is why our customer service responds within the hour, from Monday to Friday, and carefully tailors the treatment to provide a rapid solution to the problem.
A+A Désinfection, the first CEPA-certified firm in Switzerland: a superb recognition of our responsible commitment and an additional assurance for our customers.
In our business sector, sustainable development and hygiene are at the heart of our concerns. It is our duty to ensure the safety of our customers, whether they are businesses or individuals, and to respect our environment at every stage in our procedures. Our certification by CEPA (Confédération Européenne des Associations de Pesticides Appliqués – European Confederation of Associations of Applied Pesticides ), obtained this year, confirms that we meet the most challenging requirements as regards quality and expertise in the field of pests. This label concerns not only the training of all our teams but also all our procedures and the products we use. It also looks to the future and encourages innovation and on-going improvement in our field.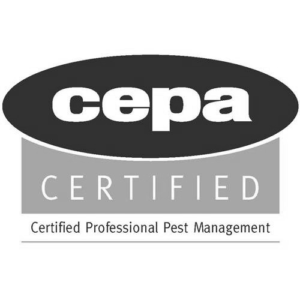 ---
---